ESPN
October 16, 2011
LOS ANGELES — Dewey Bozella landed a hard right cross on his opponent's jaw at the final bell, and the 52-year-old boxer raised his arms in victory.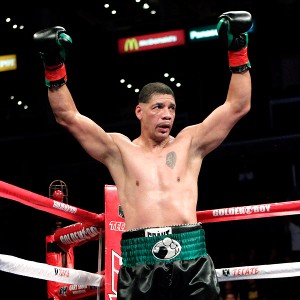 After 26 years behind bars for a murder he didn't commit, Bozella triumphantly realized a dream deferred in his first and only professional fight.
Bozella won his pro boxing debut Saturday night, beating Larry Hopkins by unanimous decision in the latest stunning chapter of a remarkable life.
"I used to lay in my cell and dream about this happening," Bozella said. "It was all worth it. It was my dream come true."
Bozella caught the eye of Golden Boy Promotions, which is promoting the Oct. 15 card, after his life was chronicled in July on ESPN's annual ESPY Award show. Bozella was honored with the Arthur Ashe Courage Award on the show.
Wrongfully convicted of killing 92-year-old Emma Crapser in 1983, Bozella earned two college degrees and became the light heavyweight champion of Sing Sing before he was exonerated in 2009.
Golden Boy fulfilled Bozella's dream by putting him on the undercard of Bernard Hopkins' bout with Chad Dawson. His victory, punctuated by that devastating punch to Larry Hopkins' head at the final bell, brought the crowd to its feet.
"This was my first and last fight," said Bozella, who lives in Newburgh, N.Y. "It's a young man's game. I did what I wanted to do, and I'm happy. I appreciate everybody that made this possible. This has been one of the greatest experiences of my life."