ESPN
Lewis talks on book/movie 'Moneyball'
Wed, Sep 21 1:21PM ET
Michael Lewis, author of the best-selling "Moneyball" book that comes out as a movie Friday, said he has two very different emotions about the project.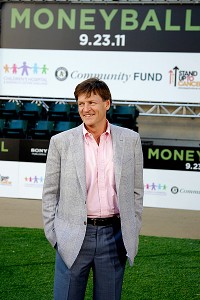 AP Photo/Ben Margot"
"With the book, I know it's mine, all mine, and I have enormous personal pride," said Lewis, who wrote the 2003 book about the cash-strapped Oakland Athletics. "The movie is not mine. I'm watching someone else's work. I have a different relationship toward that."
Lewis grudgingly watched the movie starring Brad Pitt as Athletics general manager Billy Beane, who used a non-traditional approach to put together a team, just a few weeks ago.
"I went into this thing thinking it would be horrible. I couldn't see how anyone could make a movie out of my book. My expectations were low," said Lewis, who focused the book on Beane's emphasis on analytical sabermetrics. "But when I saw it, I was in awe. They didn't just make a movie. They made a really good movie. I was moved by it. They got the spirit of the book on the screen."