Digital Spy
Tuesday, Apr 17 2012
By Catriona Wightman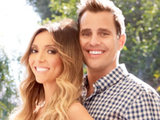 Giuliana & Bill is one of the most heartwarming reality shows out there, so we're thrilled that it's back with a new season in the UK this week. The show's covering an awful lot, too, from the couple's new restaurant to Giuliana Rancic's diagnosis of breast cancer.
We caught up with Giuliana to talk about the diagnosis, why the show's still got a lot of laughter, whether she's still planning to renew her vows with husband
Bill Rancic
, and whether the couple are still hoping to start a family…
First of all, congratulations on making it to a fifth season! What do you think is the secret of your show's success?
"Thank you! We love doing our show and we get such a great response, and I think that's because our show really is a reality show. What you see is all real and it's relatable and I think people appreciate that. There's so many reality shows out there that are scripted or staged and ours isn't at all, and I think you can see that."
This season might be a little different because it covers your breast cancer diagnosis – was it strange having that all documented on camera?
"I think I actually blocked out how much we documented. When we watched the first episode back, it was really hard, but I was pleased with the results and I'm pleased that our show may save lives. If by watching our show women think about their health and get regular check-ups, then it's worth it.
"But the show's not all doom and gloom. You also see how Bill and I try and make the best of every situation we have. We laugh a lot because we found laughter a great medicine. It really helped us, and sometimes you just have to laugh."