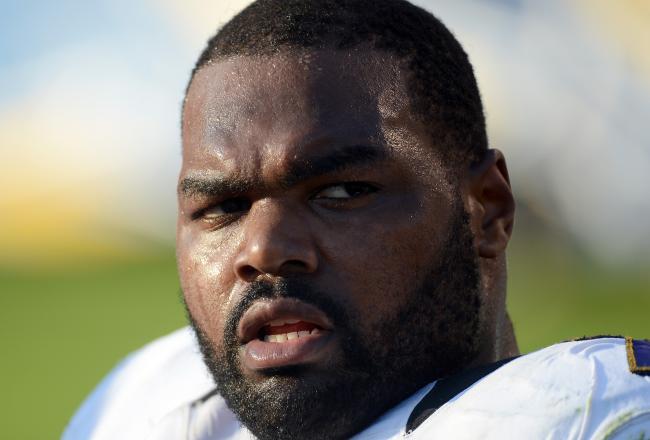 Harry How/Getty Images
Baltimore Ravens tackle Michael Oher may no longer be protecting Joe Flacco's "blind side," but his team's trip to Super Bowl XLVII would provide great fodder if they ever made a sequel to the Academy Award-nominated film from 2009.
Oher's Ravens will play the San Francisco 49ers on Sunday for a Super Bowl title, culminating arguably his most interesting professional season.
In fact, if we were crafting a movie-like narrative for Oher's 2012 season, it would certainly have its fair share of drama—albeit certainly less pronounced than the original film. And no, this actually has little to do with Ray Lewis' impending retirement or the brothers Harbaugh.
Oher himself has gone through an up-and-down season to say the least. Playing for most of the season at left tackle, Oher struggled against elite edge rushers, and Joe Flacco faced pretty consistent pressure from his "blind" side.
According to the Washington Post, Oher allowed 11.5 sacks during the regular season while also drawing eight penalties. Pro Football Focus had Oher ranked tied for 37th of 52 eligible offensive tackles in their pass blocking efficiency metric, as he allowed Flacco to be pressured 45 times in 2012.
Oher was actually seen as one of the biggest reasons Baltimore couldn't make the big game.
Just like on the big screen, though, just when you thought it was time to count out Oher, his story once again led to a happy ending.
Most would point to Lewis' return from a torn triceps as the catalyst to the Ravens' journey to Super Sunday. It's been his utterly brilliant play in the middle that has helped Baltimore's run defense go from subpar to excellent during the postseason, and it's hard to deny Lewis' emotional impact.
However, a switch on the offensive line in Week 17 may have played an even bigger role in Baltimore's ascent. It was in that game where John Harbaugh made a permanent switch on the offensive line, moving Bryant McKinnie to the left tackle spot while moving Oher over to the right side.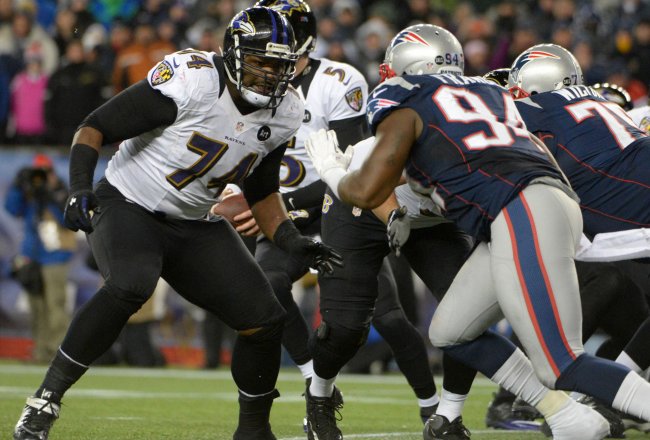 Kirby Lee-USA TODAY Sports
Since that move, Oher and the Ravens have thrived. No longer taxed with guarding opposing teams' best edge rushers, Oher has improved exponentially in the passing game while still utilizing his mauler skills on run plays.
McKinnie has also been fantastic, and the Ravens' offense has been a huge beneficiary. Flacco seemingly went from being league-average to a superstar overnight. Despite facing strong edge rushers like Von Miller in the postseason, Flacco has been sacked just four times in three games and threw for 853 yards and eight touchdowns.
While the Ravens signal-caller ultimately deserves the lion's share of the credit for his great play, Oher and McKinnie should be at the top of his thank-you-card list.
Sharing Oher's glee throughout the Ravens' playoff run has been Leigh Anne Tuohy, the Ravens tackle's adoptive mother, who was played by Sandra Bullock in the film.
Though many years have passed since Oher was that wayward young boy in need of a home, Tuohy still shares in the glee of her son's on-field accomplishments. While appearing on WMC-TV in Memphis, Tuohy said that she hasn't had much time to change clothes over the past week or so.
"The epitome of proud," Tuohy said (via her official website). "I think I've slept in my jersey for probably a week now. I'm not going to take it off."